RECENT Exhibitions
MOS
daphne partnership with 2023 MOMENTA Biennale de l'image (18th edition)
Meky Ottawa
September 9- October 21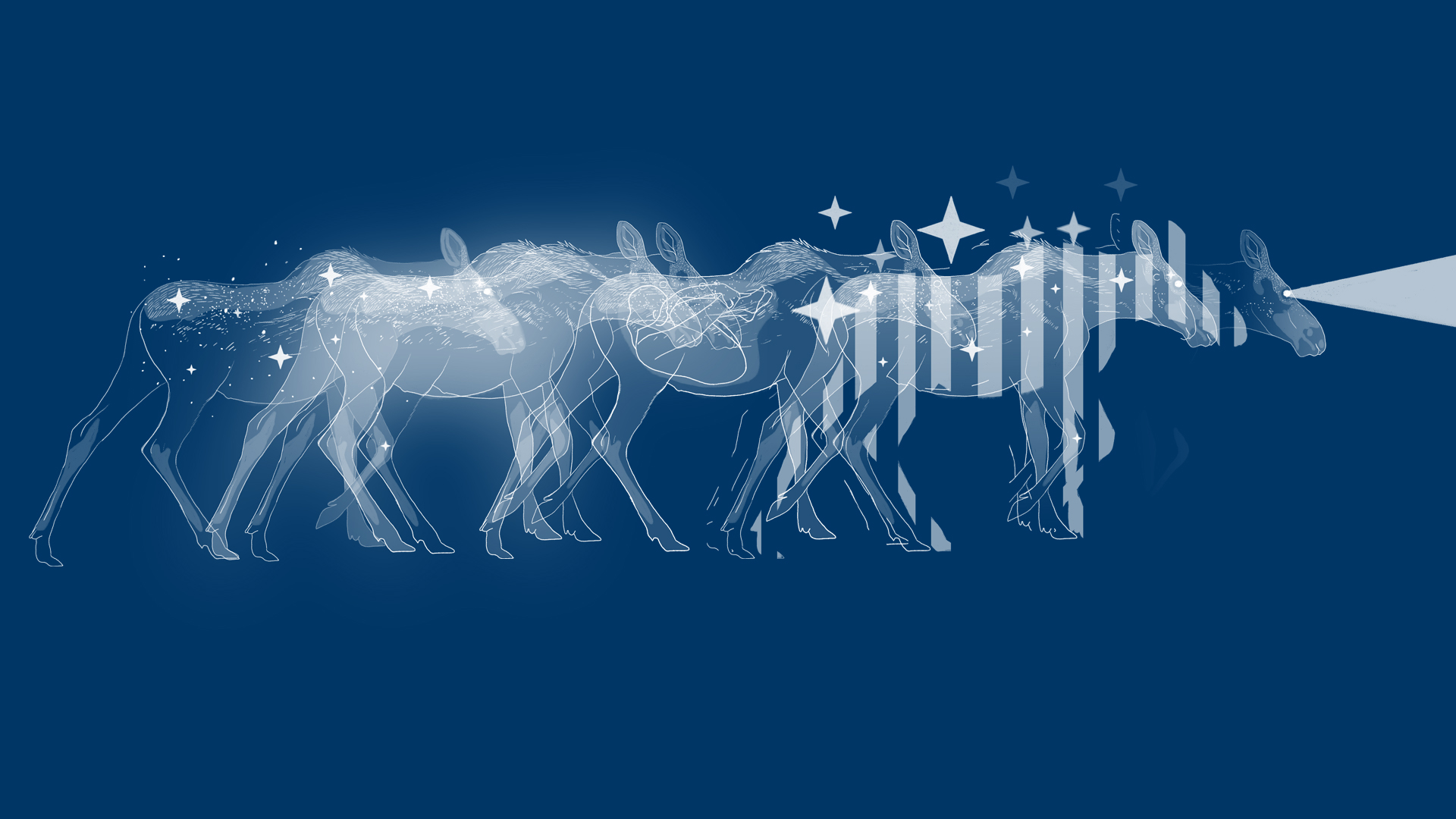 MOMENTA × daphne
Meky Ottawa

Mos

Meky Ottawa hails from the Atikamekw nation, one of eleven Indigenous nations currently residing within the provincial division of land known as Quebec. Originally from Manawan, where there is a long history of collaboration with moose, Ottawa uses this partnership as the basis and inspiration for work in a new type of material practice and experimentation. In Mos, Ottawa incorporates her flowing storytelling into work with moose leather and accessory design. She reveals the healing that comes from working with materials commonly associated with the traditional Atikamekw aesthetic while inspiring discussions about the transformative power of vestimentary choices in the context of self-determination and interpersonal identity.


In 2019, Ottawa invited audiences to "take [their] Indian Name" at the Nehirowisidigital exhibition at La Guilde.[1] The exhibition contained a high-saturation collection of digitally created labels and symbols that shared the humour of everyday life in urban Indigenous experience.[2]


In Ottawa's practice, "Every piece starts with an idea. For me, that idea has to also come with good spirit, positive thoughts, and pride in what I am doing."[3]This attitude that lines up well with the Atikamekw Nehirowisiw, the idea of "human beings in harmony with themselves, others, and their environment."[4]


It is in this spirit that Ottawa invites us to take our place among the trees in Mos, where her fluid style is incorporated into a new sculptural production inspired by moose habits and habitat. From found objects and organic materials, Ottawa designs and constructs objects that are a wearable attestation to collaboration between her and her environment. It is in this way that viewers will be indulged in a unique position from which to meditate on her chosen subject.


Moose, in the Canadian pop culture imaginary, are large, dominant creatures, endangered only by the occasional hunter. However, considering the devastating fires that have been sweeping the country over the last few summers, logging and other industrial efforts that have destroyed large swathes of their natural habitat, and ongoing issues such as urban sprawl, the position of these grandiose creatures—who are known for battles that echo so loudly through the forest that treetops turn to thunderclouds—seems much more precarious. Just by taking in their near-monolithic image, though, you would never know this; as curator Ji-Yoon Han explains, "The image has a decisive role to play in ... operations of mutation, of exposure and concealment, of separation and fusion. It is an ideal tool for seeing, experiencing, and testing perceptions of the self."[5]


Drawing on the long history of Atikamekw collaboration with the moose,[6]Ottawa uses the moose as a material through which she shapes an understanding of their relationship with the world we share and of what we can learn by observing their behaviour in response to their changing landscape. Thus, she also examines the masquerade that we, as humans, find ourselves in during times of duress and uncertainty in contemporary existence, wherein choosing how we display ourselves, our relationships, our struggles, and our successes has a truly transformative power in the context of self-determination and interpersonal identity. By doing this, she also reveals the moose as a symbol of personal healing and growth.


Ultimately, Mos is a study of contrasts that brings together textures, scale, and forms of spaces that humans and moose inhabit. These juxtapositions encourage viewers to reconsider the relationship with space that moose maintain within the context of the forest. In turn, this relationship serves as a tool through which Ottawa urges us to re-evaluate our positionalities as a species in the urban ecosystem and to question the balance of power in relation to all other objects and living beings in our environment.


Text by Katsitsanó:ron Dumoulin Bush


---

[1] La Guilde, "Meky Ottawa - Nehirowisidigital," https://laguilde.com/en/blogs/expositions/meky-ottawa-nehirowisidigital.

[2] Ka'nhehsí:io Deer, "Please Take Your Indian Name: Artist Explores Beauty, Humour, and Identity Politics in Montreal Exhibition," August 5, 2019, https://www.cbc.ca/news/indigenous/meky-ottawa-montreal-exhibition-nehirowisidigital-1.5231961.

[3] Unpublished (at the time of writing) interview that took place between the writer and Meky Ottawa in January of 2023.

[4] Benoit Éthier, quoted in Louise Vigneault, "Actualiser les traditions, raviver la mémoire," in Louise Vigneault, ed., Créativités autochtones actuelles au Québec (Montréal: Les Presses de l'Université de Montréal, 2023), 105 (our translation). In a footnote, Vigneault notes that Marthe Coocoo attributes this term to a spiritual dimension bringing together the morphemes "being in harmony, in agreement" and "identity, reputation" (our translation). See Vigneault, "Actualiser les traditions," 105 n47.

https://www.scribd.com/read/638101870/Creativites-autochtones-actuelles-au-Quebec-Arts-visuels-et-performatifs-musique-video#

[5] Ji-Yoon Han, "2023 Theme. Masquerades: Drawn to Metamorphosis," Momenta Biennale, 2023, https://momentabiennale.com/en/the-biennale/2023-theme/.

[6] "Rites and Traditions," Tourisme Manawan, http://www.voyageamerindiens.com/en/discover-manawan/our-culture/rites-and-traditions.
________________________________________________________________________________________



Eh káti'naióhton ne onkwa'nikòn:ra /
Mì àjaye ki midonenindjiganan pejigwan /
Et maintenant nos esprits ne font qu'un /
And Now Our Minds are One And Now Our Minds are One
daphne Co-founders, Hannah Claus, Skawennati, Caroline Monnet, Nadia Myre: Inaugural Exhibition
curated by Michelle McGeough
June 21 – August 19




And Now Our Minds are One / Et maintenant nos esprits ne font qu'un / Eh káti'naióhton ne onkwa'nikòn:ra / Mì àjaye ki midonenindjiganan pejigwan : daphne Co-founders, Hannah Claus, Skawennati, Caroline Monnet, Nadia Myre

Essay by Michelle McGeough

And Now Our Minds Are One brings together for the first time the artistic visions of the four founding members of daphne; Hannah Claus, Caroline Monnet, Nadia Myre, and Skawennati. The range of material, mediums, and artistic visions expressed in these works speak to the notion of place and our relationships and responsibilities as Indigenous people to the natural world and each other. These works celebrate and mourn these relationships. There is a recognition of shared history and lived experiences within settler colonialism, but it is not a story of victimry. These works stand as a testament to how Indigenous women are and continue to be the centre of our communities.

The Ohén:ton Karihwatéhkwen (Words Before All Else) is a protocol that is a reminder of the relationship human beings are meant to have with all of creation and our responsibilities to uphold these relationships with respect and humility. [1] For the Onkwehón:we, this relationship was formed when Skywoman fell from the heavens and brought this land, that we know as Turtle Island, into being. The creation of our world was accomplished through the cooperation and help of all creation. The recitation of Ohén:ton Karihwatéhkwen is a reminder of the obligations that we have to all living beings and a recognition that our survival is dependent upon these relationships. The words "and now our minds are one," spoken following each greeting and acknowledgement in the protocol, is a recognition that we are a part of this covenant, and all our actions should reflect this.

Skawennati's futuristic rendering of the Ohén:ton Karihwatéhkwen is spoken by the artist's avatar xox, inKanien'kéha and the two languages of colonization: English and French. In cyberspace, new worlds are possible, as Skawennati asserts the primacy of the Kanien'kéha language, and the other languages become silent by the end of the address. Her use of a female avatar xox reminds the viewer of women's central role in Indigenous societies before colonization and asserts women's continued presence and power in new worlds.

Recognizing that we are on the threshold of a new world is the subject of Echo of a Near Future. Caroline Monnet's monumental photograph presents a compelling intergenerational portrait of Indigenous women. Each woman in the image has a presence that defies a voyeuristic gaze. The regalia they wear is fashioned from construction material, suggesting a narrative that expresses an idea of home and the making of a home. The photograph speaks not only to the future but to an empowered manifestation of the present and past as the intricate laser cut designs on these futuristic garments are beadwork patterns passed down to current generations from the Anishinaabe matriarchs of Monnet's family.

Through our matriarchs, we trace the continuous lines that connect one generation to another. Continuous lines are reinforced by the memories and stories shared; through these communal histories, the connections from one generation to another are solidified. Nadia Myre's sculpture entitled Rita connects two Indigenous women: Myre's grandmother, Rita, and late Algonquin artist Rita Letendre. While Myre states that this is not a homage to these two women, it is a recognition of their influence on her life and artistic practice. Rita is part of an ongoing series of works that Myre refers to as experiments in painting with clay. Based on photographs taken by Myre of sunrises and sunsets, she shares that these clay abstractions are like vessels and, as such, are capable of holding memories and desires.

Hannah Claus's installation teyoweratà:se (twisting winds) evokes nature's beauty and power. Here Claus captures the energy and tension created when opposing forces converge. Claus manifests the invisible in a very tangible and powerful way, capturing the tension created by the anticipation of the moment. It is terrifyingly beautiful. While we may not understand the science, we are all too familiar with the aftermath that is left in the wake of this meteorological phenomenon. teyoweratà:se is one of the many manifestations of the air we breathe; when we enter this world, our first act is breathing in this life force, and it is our last act when we transition into the next.

The Ohén:ton Karihwatéhkwen reminds us of our responsibilities and place within the creation. Settler colonialism has attempted to disrupt these connections, whether our relationship with the natural world or with each other. However tenuous these connections are, we know that our survival as a people is dependent on these relationships.

[1] Words that come before all else: Environmental philosophies of the Haudenosaunee. Cornwall Island, Ont.: Native North American Travelling College, 2000, p.8.



Celestial Bodies / Corps célestes / Enangog Bemaadzojig
daphne partnership with articule (CAM Indigenous Emerging Curator)
Dayna Danger, Duane Isaacs, Rob Fatale
curated by Jesse King
June 30 - August 13
Opening July 6, 7-9pm @ daphne beads/ perler parler





Celestial Bodies / Corps célestes / Enangog Bemaadzojig gives a platform to three Indigenous artists who identify themselves within the LGBTQIA2S communities and as Two-Spirit &/or indigiqueer. Through the theme of 'desire, euphoria, despair and dysphoria', the objective of this exhibition is to question the role of colonial presence, and the ensuing, and often constricting, societal norms regarding identity.

Being Two-Spirit is to transcend the colonial structures that have forcibly surrounded identity and gender.

This exhibition opens a space for rarely heard voices.

The curatorial residency and exhibition are a daphne x articule collaboration funded by the Conseil des arts de Montréal, Indigenous Arts Residency.




Shii'itsüh | Pleurs dans le cœur | Crying in the Heart

Teresa Vander Meer-Chassé
May 13 - June 30

Shii'it Süh/ Crying in their heart / Pleurer dans leur cœur

Teresa Vander Meer-Chassé is a proud Niisüü member of White River First Nation from Beaver Creek, Yukon and Alaska. She currently resides on Songhees, Esquimalt and W̱SÁNEĆ Territories in Victoria, British Columbia. She is an Upper Tanana, Frisian, and French visual artist, emerging curator, and Master of Fine Arts candidate at Concordia University in Studio Arts. Her visual arts practice is invested in the awakening of sleeping materials and the reanimation of found objects that are rooted in understandings of identity.

As a way to process grief and loss, I have created a literal and metaphorical shelter that has been reclaimed, reconstructed, and revitalized. Having found myself in deep internal conflict following the loss of yet another family member to substance use, I invite you to enter Nee' Shah | Our House to witness the importance of awakening sleeping materials as a method of navigating loss. Through the processing of natural materials with my family, I attempt to empower you to witness universal cycles of loss, grief, and mourning.

By way of patches, I translate text I have sent to family members that I have lost to or are currently experiencing substance use disorder. I do not personally experience substance use disorder; I am only a witness and a loved one to many that are experiencing or have experienced substance use disorder. Symbols, colours, and patterns that represent my Upper Tanana, Frisian, and French families and communities are present throughout the tent and act as protection, grounding, and connection. Natural materials were collected and processed collaboratively as a family and became a daily ritual in my self-growth and grief recovery.

CONTENT WARNING: This exhibition includes themes of loss, grief, and substance use. Hǫǫsǫǫ dìik'analta' de' (take care of yourself).

Nee' Shah | Our House 2023

Taathǜh (Canvas Tent) - I upcycled and reclaimed a used canvas wall tent from my community of Tthèe Tsa' Niik (Beaver Creek, Yukon). There are quite a few wall tents in and around Tthèe Tsa' Niik but many of them are brand new and actively being used. Rumour had it that the wall tent my Grandma Nelnah Bessie John had at her Fish Camp might still be there. With permission from the family and White River First Nation, I planned to visit Fish Camp with my Dad Wilfred Chassé. Before heading out, we spoke with my Uncle Ricky Johns who told us that they had already thrown away Grandma Bessie's tent a summer or two before but that there may still be something out there that I can use.

Grandma Bessie's Fish Camp is located directly across from the international border marker along the Alaska Highway, separating Yukon and Alaska. When I was young, Fish Camp was accessible by foot but in recent years and with development of the highway and effects of climate change, it requires a canoe to access the site. My Dad and I loaded up a two-person canoe on his truck and he drove me there in the early morning. It was turning out to be a beautiful sunny day. We unloaded the canoe and struggled through the mud to get the canoe out on the water. It was my first time canoeing that lake and it was beautiful but shallow in areas. After digging ourselves out of the weeds, we made it to the banks of Fish Camp.

We searched but came up with nothing. I became a little worried that we wouldn't find anything to use but sure enough, as soon as I pushed passed a fallen structure, I found an old rotten canvas on the ground. We eventually got the canvas tent in the canoe and paddled back to the highway. While we were paddling, two swans took flight beside us and it marked a wonderful moment of reclamation, family, and rediscovery. I transported the wall tent back to Victoria, British Columbia where my Mom Janet Vander Meer and I spent a week cleaning the tent to rid it of all mold and other toxins. I completed the wall tent's reconstruction at the Ministry of Casual Living in downtown Victoria.

Ch'ithüh (Home-Tanned Hide) - Throughout my Master of Fine Arts degree, I spent the majority of my summers in Tthèe Tsa' Niik working on a dinǐik thüh (moosehide) with my Mom Janet Vander Meer and my Grandma Marilyn John. My Mom's partner Dwayne Broeren shot a dinǐik choh (large bull moose) in the fall of 2020. They skinned the dinǐik and left the flesh outside to freeze over the winter. During the cold months, a starving wolf entered the community looking for something to eat. The wolf ended up destroying the hide and leaving a small chunk of the rump left on the fleshing pole. I wasn't confident enough to work on a dinǐik thüh choh to start with so the small rump piece made the most sense. However, I soon learned that many hide tanners actually remove the rump because the skin is quite thick and the shape makes it difficult to scrape.

For the first summer, I lived with my Grandma and we got as far as we could on the dinǐik thüh by way of her memories. I would ask her questions about her childhood, before she was forced to attend Lower Post Residential School. I asked her what she remembered of her Mother and Grandmother tanning hides, what she saw, what she smelled and heard. We made it quite far into the process until memory was not enough and we needed assistance. A community of young hide tanners came to our aid and offered their knowledge and skills which helped immensely. Unfortunately, on my final trip to complete the hide, we were hit with various factors that prevented me from smoking the hide properly.

Feeling somewhat of a failure and experiencing the loss of the dinǐik thüh that we had worked on over the course of two years, my Grandma Marilyn had a solution. She had been saving two ch'ithüh that her sister Nelnah Bessie John had completed before her passing in 2000. Grandma Bessie was the last person to successfully complete a hide in the community. I decided to use the hide that Grandma Bessie had already begun cutting up prior to her passing. And I am honoured and very grateful to my Grandma Marilyn for allowing me to display this piece. This is certainly not the end to our tanning journey, just the beginning.

Mēet Thüh (Lake Trout Skin) - Shnąą Thielgay eh naach'akch'įǫ. My Mom Janet Vander Meer, her partner Dwayne Broeren, and his brother Doug Broeren, took me on my first official fishing trip to Kluane Lake in the summer of 2021. It was supposed to be the annual fishing derby but because of the COVID-19 pandemic, they canceled it that year. Despite the cancellation of the organized event, numerous boats still decided to go out on the lake that day. Lake trout, white fish, and grayling are the most common fish you can find in White River First Nation Territory. My Mom and I caught a large 20-lb lake trout on that sailing, however we ate it and did not keep the skin.

I learned to tan ∤uuk thüh (fish skin) from Vancouver-based artist and tanner Janey Chang. I took a workshop with Janey online and proceeded to tan more than 40 skins while I was in Tiohtià:ke/Mooniyang/Montréal for my final semester of coursework. Upon my return to Tthèe Tsa' Niik Dwayne had saved me a ∤uuk thüh to tan that was from our Traditional Territory. I decided to tan the mēet using the oil method. I was given a recipe from Beaver Cree artist Cheryl McLean and it worked wonders. Along with my Grandma Marilyn John, my Mom, my Auntie Rosemarie Vandermeer, and my Niece and Goddaughter Sophia Vandermeer we worked on processing the mēet thüh. Four generations of hands touched this ∤uuk.

Dinǐik Tth'èe (Moose Backstrap Sinew) - My Mom Janet Vander Meer and her partner Dwayne Broeren hunted a dinǐik and butchered it on site. My Uncle David Johnny had come to help them cut the dinǐik. He told them stories and identified the dinǐik tth'èe which they cut out and kept for me. Long before I was interested in tanning a hide, I was more keen on learning how to spin sinew. I remember watching my Grandma Marilyn John do it when I was young but I wanted to try it for myself. My Grandpa Sid van der Meer mailed the dinǐik tth'èeto me and my Mom and I learned how to spin from my Grandma over speakerphone. We listened to her and told her how it looked. I took the sinew with me on another trip back home and Grandma gave me the thumbs up that I had spun it correctly.

Donjek (Silverberry Seed Beads) - My Mom Janet Vander Meer, my Grandpa Sid van der Meer and I decided to take a trip down to the White River. I wanted to collect some of the ash sediment on the banks of the River for a project. My Grandpa enjoys playing tour guide and it was an area he hadn't explored for quite some time. He had a cabin and business along the highway near the White River. It was my Mom's first home. The structure is now being reclaimed by the nän' (earth). We spent the entire morning collecting ash, rocks, and driftwood along the river. As we sat to catch our breath, I noticed a bush filled with silverberries. I was gobsmacked because I didn't know where the jik (berries) grew. I knew they had a seed inside them that was and is still used today to make beads. We collected as many as our pockets could hold and brought them back to Tthèe Tsa' Niik to be cleaned and dried. My Grandma Marilyn John told us that you could eat these berries and that the seeds were used to make beads but that the practice wasn't done as often today.

Nuun Ch'oh (Porcupine Quills) - I gathered these nuun ch'oh with my Mom Janet Vander Meer off a nuun that Dwayne Broeren had killed for my Uncle Patrick Johnny. My Mom and I sat in the back of her Ford F150 plucking away and smacking the nuun with a towel to gather as many quills and hair as possible. We had to move quite quickly because my Uncle Pat was eager to eat! After we gathered as many nuun ch'oh as we could, we watched as my Uncle Pat used a blow-torch to singe off the rest of the quills and fur before he skinned and gutted it. Apparently the feet are quite tasty however I didn't indulge.

New Zealand Brown Sheep Yarn - I was gifted two New Zealand brown sheep rugs from Shuudèh Wunąą (My Sweetheart's Mother) Rosyland Frazier. I wasn't sure at first what I was going to do with them but in a flash decision, I decided to teach myself how to spin yarn. I picked up a few simple tools from a local yarn store and watched more online tutorials than one should. I decided to use the handspun yarn in a blanket stitch pattern in certain areas of the tent.

Melton/Stroud - Melton is a woven wool fabric that dates back to early fur trade in what-is-now-called northern Canada. Until quite recently, Canada had its own melton company however it closed and we now have to import melton (or stroud). My first dancing dress was made of red felt and I recently made my Grandma Marilyn John a tunic from white and red stroud. In the creation of Nee' Shah | Our House, I wanted to include our family colours - red and black - with melton. I cut the melton into symbols that are representative of Upper Tanana communities. I was lucky enough to have seen some of these symbols on works by the Elders of our Elders during my visit to the McCord-Stewart Museum and the Field Museum.

Other materials include: canvas, cotton fabric, embroidery yarn, crochet yarn, nylon thread, cotton thread, polyester thread, glass seed beads, vintage seed beads, galvanized gold delica beads, ABS pipes and fittings, metal fittings, notions, rope

Tsin'įį choh (big thank you) to everyone that supported me on my learning journey. From hands-on learning to sharing memories, stories, and language, I have been blessed with numerous teachers throughout the past few years as I underwent my Master of Fine Arts degree. This journey would not have been possible without the following contributors and supports: Janet Vander Meer, Marilyn John, Wilfred Chassé, Dwayne Broeren, Sid van der Meer, Christopher Walton, Lisa Jarvis, Rosemarie Vandermeer, Tuffy Vander Meer, John Vandermeer, Jordan Vandermeer, Deuce Vandermeer, Quanah VanderMeer, Sophia Vandermeer, Patrick Johnny, David Johnny, Ricky Johns, Jolenda Benjamin, Bessie Chassé, Courtney Wheelton, Montana Prysnuk, Angela Code, Janey Chang, Cheryl McLean, Jesse Lemley, Rosyland Frazier, White River First Nation, Ministry of Casual Living, Field Museum, McCord-Stewart Museum, YVR Art Foundation, Concordia University Studio Arts Staff, Faculty, and Peers, MFA Supervisor Surabhi Ghosh, Centre d'art daphne's Board and Staff, Lori Beavis, John Player, and to everyone that has offered an encouraging word or a helping hand - thank you.


Bebakaan

Carrie Allison, Christian Chapman, Matthew Vukson
curated by Lori Beavis
November 19, 2022 – January 28, 2023

Bebakaan / Each is Different: Carrie Allison, Christian Chapman, Matthew Vuckson

With thanks to Alan Corbiere for the Anishinaabemowin translation

Bebakaan is Nishnaabewin for 'each is different.' The word came about, with good help from Alan Corbiere, while processing the element/s of the works in this exhibition. I was thinking of expressive words like, 'alternatively' or 'exchangeable' because, while the artworks relate to one another through the preoccupation of bead work, they are all in some way different from one another and different or outside of our expectations of beadwork.

The 3-person exhibition, Bebakaan with Halifax-based Carrie Allison (nêhiýaw/Cree, Métis, and mixed European descent), Christian Chapman (Anishinaabe) from Fort William First Nation in northern Ontario, and Matthew Vuckson (NWT Tlicho Dene) living and working in Lac Brochet, Manitoba brings beading out of the realm of the intimate and fixed, to over-scaled, animated, and immersive. The works included are a method for each artist to discuss place, positionality, histories, and identity in their own way.

Beading is the place setter for the work in Bebakaan. Across history, the practice of beading has been widely recognized by the peoples as a means of recording and translating cultural knowledge. Christi Belcourt has written, "Beading is deeply rooted in land-based histories and relationships bound up with stories and storytelling … [as such] beading carries the stories of how cultures have adapted over time."

The cultural belief that beading – in whatever form it takes, brings people into relationship with one another and with their own nation-specific lands, histories, identities, and worldviews is demonstrated in this exhibition.

Carrie Allison's animated beadwork responds to her maternal ancestry as a way for her to think through connecting and reconnecting to land, both visiting and ancestral. Her work combines old and new technologies to tell stories of the land, continuance, growth, and of healing. TO HONOUR (2019) is an experimental beaded animation exploring the concept of returning beadwork back to the landscape. Miyoskamiki (2020) is a beaded animation that depicts the blooming of a Prairie Crocus, one of the first plants to emerge once winter begins to turn to spring. Customarily, hunter and farmers watched for these plants to mark the turning of the seasons. Nishotamowin (2020) is a nêhiyawin/cree word for understanding or self-in-relation. This is an audio piece that thinks through 'getting to know' or understanding by listening to the actions we carry out. By using contact mics and microphones while beading, Allison was able to amplify the small sounds made through the gestures of beading. The viewer connects to the audio through a QR code to tune in to the sounds that filter through the window of Allison's studio, as well as her amplified beading gestures and spoken thoughts. Allison's works are gestures to seek understanding and to connections to family, language, and land.

Christian Chapman creates his paintings and silkscreen prints to tell stories often using the Woodlands-style. This is a distinct style of art that blends traditional stories and contemporary mediums with bright colours and bold lines. Chapman is well-known for the insertion of easily recognizable figures – Princess Diana, Queen Elizabeth II, or Elvis onto a flat field where the figure is surrounded by florals and animal shells or hides. However, since 2017, he has been inspired by the creative community of women who make and bead their regalia. He turned to the more intricate beaded details of the regalia, he says, because both his partner and his sister, along with other women in his near and extended family are bead workers. He made the decision to paint the bead work patterns to a vastly over-scale degree, as a way to better understand the delicate glass beads and the floral patterns. At the same time Chapman continues to work within the visual heritage of the Anishinaabeg beading patterns as a method to make connections with family histories, stories, and the land on which these relationships were formed.

Tlicho Dene artist Matthew Vukson is a teacher. Teaching others is part of a continuum that he has experienced – he was taught to bead by his mother and now he teaches this skill to others. Vukson likes to share stories that have been passed on to him from his family and he enjoys talking about his beading journey. He uses art as a form of reclamation and reconciliation.

In the immersive work in this exhibition, he steps aside from the floral beading work that he was taught to turn his eye to the experience of violence and police brutality. In his work we find police badges, Police Badge 1, 2 (2019, 2020), handcuffs Cuff'em (2022) and a hangman's noose, Calculating Weight (2022). This work that speaks of brutal responses to the Indigenous body is balanced by beaded images that centre Indigenous cosmologies as a source of healing and nurturance. In work such as Place Before Time (2019) and Orbital Station NO 2 (2021). While other work such as Red Walker (2018) and Octavial (2019) remind us of the strength that we can draw on when we return to the land to walk through forest, masses of wild flowers, or to sit and watch the Northern Lights in Place Before Time(2019).

While in this exhibition, Vukson's work is situated most deeply in the realm of customary beading his subject matter sidesteps of our expectations of beadwork. Allison and Chapman also change up the notion of beading as the play with movement and scale. Yet all three artists are, in their own way, making plain the continuity of the tradition of beading embedded in Indigenous art, with a difference.




Versification/ Teskontewennatié:rens

Carrie Allison, January Rogers
curated by Ryan Rice
September 10, 2022 - October 29, 2022

Versification: 10 Questions

Ryan Rice: Given there are formal westernized rules and structures around writing prose that you clearly challenge in your work, can you describe or define how the exhibition title Versification represents this compilation of works being presented? Can we understand or read it as a decolonial re:action?

January Rogers: Great question. I liked and chose the title Versification because it so aptly made reference to the promotion and use of verses activated in the poetry circulating in various forms throughout the exhibition. I am using language, inviting language through words and images to speak the meaning of these pieces with open ended outcomes, whereby or through which the viewer is welcome to take and interpret from their personal interactions with each piece. There was a specific time in my life when I consciously chose to pursue poetry or rather allowed poetry to show me a route for my expressive outlets. And I did so by letting go of my visual art practice and turning my attentions and energies to writing. But then the visual work crept back in by way of media making, which is a very visual practice and I started to incorporate the poetry into video and performance. So perhaps the combining of those art forms, like throwing off the oppressive parameters of "traditional literature" could be seen as decolonial reactionary, but honestly, if the work is a decolonial reaction, then that's a by-product of me, making the work serve my passions.

RR: Your primary creative practice as a writer is magnified through your experimentation and control of media (sound, performance, video) and is layered with references addressing social justice and biting critique of the colonial systems we experience. At what point, as a writer, did you incorporate and fold these tools (media) into your work? How did they amplify your voice?

JR: Well, I'm not sure the intention was to amplify my voice, but the practice itself amplified my joy. Through my work and experience in radio, I learned a few skills with producing sound and I took that little bundle of knowledge and ran with it, having so much fun experimenting and realizing that sound is such an ancient expression and that it is possible to produce narrative with sound alone. So again, my practices were overlapping; writing, sound, radio, performance, music, voice etc.

And yes, I make commentary with my work. I have to. It's part of my responsibility as a Haudenosaunee Woman Artist. I have to make these markers in time, even if I'm reaching back into my cultural birthrights to bring them forward. Those pieces will represent a contemporary interpretation of our teachings and historical events. I have to represent myself as an artist and I'm getting a bit more bold in my practices to really include my own, personal story.

RR: I admire your versatility and fierceness of your creative spirit and how it isn't restrained. What motivates you? Inspires you?

JR: Well, you've named it. It's the "creative spirit" -- that spirit has been with me since childhood. And although I didn't choose to "study" art and have the privileges of learning about those who came before me and the use of a proper art language through formal training, I did eventually come to that knowledge through doing residencies and through working alongside others in collaborations and through my own personal research and practice. So, I didn't have to unlearn anything to get to find my voice as an artist. It was developed by adding to, not taking from. And I could never use "that language" to bullshit my way into cultivating an audience for my work, because I don't have that language. I have poetry. I have instincts. I have that spirit that guides the work. I'm inspired by the honesty of lived experiences and I'm motivated by a real sense of responsibility to use the gifts and opportunities which I have been so very blessed (word without a lie) to befall me in my life.

RR: Do you feel a sense of urgency to "do" (as in making art)? If so, does this urgency drive your work?

JR: No.

RR: As a full-time artist (broadly defined), where do you find the energy to manage and hustle not only the literary environment, but also multiple projects that cross-over into visual culture and media.

JR: It becomes a wonderful puzzle and complex dance at times. But again, it was something I've done since childhood. I remember, in grade 5, writing plays and getting all my friends to act them out. They were very feminist based plays, putting the female character as lead, as hero to the story. I was raised by a feminist mother in the 70's and 80's. In a time when the word "feminist" was connected to the words "Women's Liberation", which was a different time and with a different meaning. But I was also supported as a young writer in those communities. So, I've always been a self-starter and I believe I'm just hard-wired to be able to manage my career, as well as be the creative I need to be. I know that's not the case for every artist and I have, since returning home to Six Nations, lent my management skills to some of the community musicians and local events. It's work that really feeds me. So it's not a surprise at all that I feel quite comfortable in the role as "producer" in my own projects and in collaboration with others.

RR: In your performance work, your presence is bold, unapologetic and commands attention. At the same time, I've had the opportunity to witness your actions as being thoughtfully poised and balanced. How do you craft this animation? Are you conscious of audience and reaction? Is this important?

JR: Audience is not important in the development of my performance work. What's important is that I remain in the moment, that I evoke the "spirit" of the work within me, feel it in me while in performance because that "spirit" will translate, while in performance. It's so powerful. There is so much that can be conveyed through performance and it really excites me to discover the language that comes from my body, my movement, and the combination of actions and interactions with objects. The measure of success in performance, for me, is the stinging silence when an audience is deeply engaged because I'm so engaged in my own space, thoughts, and meditation in real time. I believe we can identify elements known to performance art. We can name them and teach them. But I think what I love so much about performance art is the same thing I love about "spoken word" in that we define it by doing it and when we keep doing it (authentically), we expand upon the definition of it. These practices, like the culture itself is a living, growing thing. It needs to morph and challenge both the viewer, but more so, the artist.

RR: What was your experience producing the visual poems in the exhibition addressing residential school legacies and the Mush Hole in particular? How do you relate to this history?

JR: First of all, the images are taken from the documented performance work my brother and collaborator Jackson 2bears and I did at the Mush Hole aka Mohawk Institute aka Six Nations Residential School in 2016. Jackson has more of a direct and known history with the Mush Hole through his paternal grandfather's story. I have a lesser-known family history with that place, but I do know that my paternal grandparents had involvement in the Anglican churches on Six Nations, which of course took them away from Haudenosaunee cultural traditions and practices. So there was a clear disruption from that generation, if not further back. The poems which live with the images are new(er), written while on a trip to Venice Italy in April 2022, which was a very challenging trip for me in many ways. But it served as a time where much self-reflection was done and I wrote several poems on that trip. Some of which I included on the Mush Hole images. This is where I tell my story. The shame of growing up visibly Native, the loss of my Sister - the only other person in the world who shared my story, the undeniable negative effects that residential school has on my reality today. I survived. I am thriving. I am celebrating 31 years of sobriety this year. Going back into that institute with images of my family, was very transformative. Through that performance work, I was able to change my relationship with that place by being mindful of my presence there as well as the presence of the spirits of those who passed through there. Their energy is palpable. I can feel them listening when I speak to them.

RR: Being from Six Nations, what is your relationship to Pauline Johnson? Do you see any parallels with your own trajectory as a Haudenosaunee writer and performer?

JR: Short answer; Yes. Long answer is I believe she came into her own as a writer and performer out of a need to express herself, out of a love for theatrics, out of a desire to stay free and a natural want to be her own person. I operate from a similar foundation as an artist and also a Haudenosaunee woman. The whole not-having-kids thing can sometimes make you seem like an anomaly in Indian Country. And Pauline didn't have children (although there are rumours…). And I don't see that as a sacrifice to my career. I value my freedom very very much and there's little else I see that this world can offer that is more attractive to me than that. As a performer, what I share with Pauline is the way we've both taught ourselves how to do this thing called performance poetry. Other than the theatre performers, Pauline Johnson admired and there wasn't anyone doing what she did in her time. And it's been the same with me. When I decided to move my work into a performance poetry practice, it was all self-developed and thank goodness most of it worked. So there's an innovative nature we share, a strong pro-female and very pro-Native agenda from where our poetry is inspired from and of course the love and need to travel to advance our careers.

RR: An "orator" has a significant role in Haudenosaunee culture, do you feel you are moving forward this tradition with your own practice? How important is it to tell, and be heard? How important is it to listen?

JR: Another great question Ryan. You witnessed the performance art piece I did with radios and if you recall in my talk post-performance, I shared, I believe we are all like radios. That is to say we have the ability to transmit (send signals) and receive. So again, I'm making reference to our energies. As a poet who speaks her words, rather than reads them, although I also sometimes read them too, I believe that how we (Native authors) participate in "literature" is but a stepping stone to bring us back to the original practice of oratory. There are many roles in our current societies which employ "oratory" in their pursuits such as lawyers, comedians, teachers, Longhouse speakers, politicians etc. So the act of "speaking" never really went away. The whole reason I started doing spoken word was so my words could be heard - not me - my words. I wanted to honour them by giving them the best chance possible of being heard. And over time, after my nerves calmed down, because there is a fear of losing the words in mid-speech, I began to present with a natural sense of stage presence and gestures. I started to have fun with it.

RR: Thinking about the tangible objects you create and the materials you incorporate and produce for your performance and media work such as costumes, props, cornhusk dolls, stepping stones, rolled cigarettes etc., all become artistic / creative representations that embody your presence that remain active as traces of your absence. For Versification, and your performance and collaborative work with Jackson 2Bears (Kanien'kehaka multimedia installation/ performance artist and cultural theorist from Six Nations), how does the remnants exhibited embody the essence of your performance?

JR: I would say through performance, we not only create experience and memory but evidence of our presence through the objects left behind. In the case of the Spirit Shadow performance, as part of the Versification exhibit, Jackson 2bears and I literally leave outlines of ourselves there in the gallery. We create negative space in the shape of ourselves, distinguished by the medicines we use in a protection ceremony, believing that the methods and actions we evoke to protect ourselves in performance, is so evident, that even in our absence, we remain....protected.




Nikotwaso

Catherine Boivin
curated by Jessie Ray Short



In the round – Catherine Boivin by Jessie Ray Short (revised October 2023)

Catherine Boivin's work centres on happenings that affect her personally, as an Atikamekw woman and mother living in an Indigenous community in contemporary Quebec. I listen carefully during our video chats as Catherine tells me about the concepts behind her piece, entitled Nikotwaso. Her baby daughter plays in the background of our meetings or climbs around on Catherine's lap. Our discussions circle around a variety of topics, including current film and television interests, video art, cultural knowledge from our respective Indigenous communities, the importance of language and teaching Indigenous languages to future generations, and the ongoing gendered violence perpetrated against Indigenous women across Canada.

Catherine remarks how she now feels a weight of responsibility to address these issues, to keep her language and culture alive for her daughter. To keep her daughter alive for her culture and language. These concerns have been and continue to be voiced by Indigenous people. It can be stated that in this country, "a national narrative [has been created and] is based on Indigenous genocide… For far too long there has been an interest in Indigenous cultures but not Indigenous people or their well-being."[1] There is no culture without the people from whom it stems. For a young woman like Boivin, the issue of murdered and missing Indigenous women is one that continues to haunt her, as is the case for Indigenous peoples nationwide (and no less so in Quebec).[2]

In this exhibition, Catherine and the women who are part of her work, move in circles through the monitors, acknowledging the many layers of being that they each hold within themselves. The monitor-based installation is encircled by a series of visually-layered prints that relate to and expand the video work beyond the edges of the screen. The women move in circles to stay active, for self-care; they move in circles to acknowledge the cycles of life, including seasonal changes; they move in circles to acknowledge the cycles of violence that make them, as Indigenous women, many times more likely than other populations of women in the country to endure violence. Each print touches upon and re-interprets discrete elements contained within the video work. Catherine plays with the opacity of the printed images in order to consider the totality of her exhibition from another perspective wherein semi-transparent elements printed on top of each other combine to form wholly new visions. The technique is interpreted from lived experience, as Catherine explains: "…the more we come together, the clearer the image becomes."[3]

Catherine's work is nuanced, incorporating, and looking beyond narratives of Indigenous trauma. Talking with Catherine about Nikotwaso, I am struck by the similarities in both the material and conceptual concerns of her work with that of Dana Claxton. In an artist talk, Claxton notes how her focus on fashion and beauty standards in her work function as a device to question the "aesthetic imperialism" of Eurocentric norms, from within her Hunkpapa Lakota-specific point of view, and "wanting to see the beauty of Indigenous aesthetics."[4]

Catherine's work, like Dana's, does not remove the specific pieces of clothing from how they are meant to be worn, but instead is "folding"[5] cultural elements into the designs. The intention in this is to incorporate historic elements seen in Atikamekw clothing worn by Catherine's ancestors, such as the belted, checkered-cloth skirts, while also adding design elements inspired by the Icelandic singer Bjork's eclectic vision.[6]

Nikotwaso is a work of circles and of cycles. It is a work in the round. Catherine brings together the past and the future in the present, looking back to her grandmothers, looking forward to her daughter and future generations while also referencing diverse visual elements, whether they stem from pop culture, film and television, or contemporary and historic Atikamekw cultural aesthetics. Nikotwaso asks the viewer to suspend beliefs, or what you think you know of Indigenous women, and enter into the circles of possibilities created by Catherine Boivin.

---

[1] Wilson-Sanchez, Maya.

[2] See the MMIWG reports mentioned in bibliography for specifics

[3] Catherine Boivin, October 4 2023.

[4] Claxton, Dana.

[5] Claxton, Dana.

[6] Personal Communication with Catherine Boivin, May 6, 2022.