Michelle Sound

okāwīsimāk nawac kwayask itōtamwak|Aunties do it better
January 8, 2022 - March 5, 2022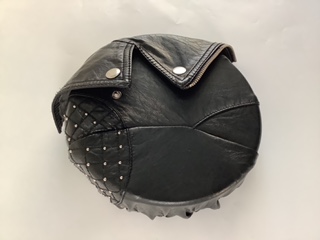 https://ici.radio-canada.ca/espaces-autochtones/1856562/michelle-sound--exposition-daphne-arts-visuels-montreal

https://www.ecologia.org/news/indigpers.html
Podcast - New Drumbeat for Indigenous Artists
for "Indigenous Perspectives"

Aunties Are So Deadly

Text by Jas M. Morgan

Cree artist Michelle Sound knows aunties are so damn deadly. In Sound's NDN Aunties, I see Cree aunties, standing tall and proud. I see Cree aunties dressed in fringe and studded leather, faux fur, and denim. I see aunties throwing their heads back and creating sonic sovereignties with their laughs that fill up spaces and the crevices of their nieces, nephews, and niblets hearts. I see aunties driving trucks down dirt roads, aunties in shades, aunties who love metal, and aunties who carry the weight of their communities wherever they are in the world. Standing in front of the drums of various sizes that make up NDN Aunties, each drum appears to represent a single, solitary auntie and her deadly style icon status, like material portraits that completely blow apart the colonial aesthetics and qualities that supposedly define portraiture. One drum dons cheetah print faux fur and I imagine a Rez royalty auntie wearing a long cut coat made out of the same material. Button details on a denim drum reveals a beaded medallion pin of a medicine wheel—I imagine it was made for the auntie the drum represents by someone who deeply cares for her and is grateful for her support—and other pins depicting Indigenous language and promoting "Aunty Magic." The buttons invoke all the aunties on the front lines of NDN justice movements. The buttons remind me of everything our aunties have endured at the hands of a nation that sought to eliminate them through sexist policies and intimate violence and, despite those attempts at removal from the land and community life, the love and light those aunties emit throughout their communities. Together, the drums are a force to be honored and revered. The drums tower over you. The drums are beautiful but unplayable, much like the tough NDN women who inspired Sound to make them.

Undoubtedly, what makes NDN aunties so deadly is the knowledge systems of their communities and ancestors—these facets of Cree peoplehood are represented in Sound's work, too. In HBC Trapline beaver pelts accompany rabbit fur drums dyed the colors of the Hudson's Bay Company four point blanket: blue, yellow, red, and green. Sound is making a reference to the aunties who we will never get to meet: our Cree ancestors. Indigenous women were paramount to the fur trade in Canada wherein they contributed their labour preparing furs and pelts. The same knowledges Indigenous women used to support their communities are ingrained in the histories of labour that produced Canada but are seldom recognized. In Chapan Snares Rabbits, Sound makes reference to a lineage of deadly aunties within her own family. Chapan is a Cree kinship term that refers to a great grandparent. Chapan serves a dual meaning, however, and can also refer to one's descendants. Sound's Chapan and kokum both supported their family on the trapline. The Chapan Snares Rabbits drums—dyed in pastel pink, blue, and peach hues—are an homage to the women who provided for Sound's family, who Sound is indebted to for her cultural knowledges and sense of personhood. Trapping and hunting aren't a realm where Indigenous women are always represented as providers in contemporary settler-colonial discourse. But Sound disrupts the degraded position of Indigenous women within Canadian society by referencing a long line of aunties before her, whose steadfast knowledge, care, and material practices made Sound who she is today.

Sound's art is both tribute and testament to NDN aunties and their infinite deadliness. All NDN aunties are paid tribute to when Sound gestures towards these strong Indigenous women in her own family lines. I see the strength of will, character, and love that Sound's mother possesses in Nimama hates fish but worked in the cannery. I see the stories of so many Cree families held together by the ingenuity and strength of NDN aunties, like Sound's family from Wapsewsipi (Swan River) First Nation, who found themselves displaced from their traditional territories, but were remade as a peoples through the hard work of Sound's mother. In Sound's artwork, I see the deadliness[1] of the aunties that have sustained Cree peoplehood for centuries before the first white man stepped foot around these parts. I see hilarious aunties, giving aunties, and mean-but-you-know-not-to-mess-with-them aunties. I see regal Cree aunties who carve out worlds with their intentions and care. I see aunties carrying NDN nations on their backs. I see aunties who make NDN families with their love. I see NDN Law.

---
︎ Previous exhibition